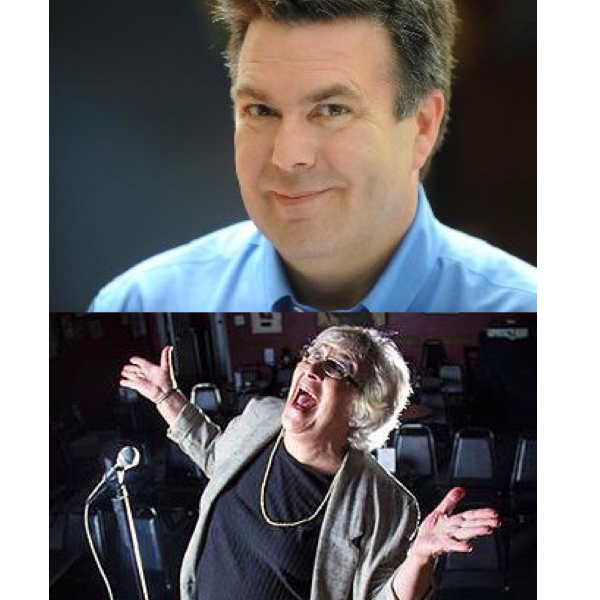 May 14
Kevin Meaney:

With an inspired blend of lunacy that includes physical humor, impersonations, stylized caricatures of nightclub singers and his signature "man on the street" interviews. Emmy Award winner KEVIN MEANEY has been one of the country's most popular standup comedians for more than 25 years. Tom Shale's of the Washington Post said, "Picture the precocious love child of Jonathan Winters and Ethel Merman and you have some idea of Kevin Meaney's act." Making people laugh has always been a top priority for Kevin. From his early years doing standup comedy in San Francisco and Boston he's amassed an impressive list of credits along the way. His first HBO special in 1986 catapulted him to the forefront of the comedy scene. In 1987 Kevin made his debut appearance on, "The Tonight Show" with Johnny Carson and was invited by Johnny to join the guest panel. Since his first appearance Kevin has returned to the show a dozen times. He was a special guest on Saturday Night Live and has appeared on Letterman, Regis, Oprah and Conan. Kevin is also an accomplished actor, having starred in the CBS sitcom, "Uncle Buck" which ran for a full season. In addition, he has done numerous guest appearances on both sitcoms and dramas. He also had a featured role in the movie 'Big". In 2006, Kevin expanded his acting repertoire to appear in the Broadway production of Hairspray as The Male Authority Figure, playing five roles - Mr. Pinky, Harriman F. Spritzer, The Principal, The Cop and the Flasher. Kevin is also a successful writer and producer. He wrote and produced and starred in a one-man autobiographical play titled, Wedding Vows in Vegas which premiered at the prestigious U.S. Comedy Arts Festival in Aspen, Colorado before going on to a successful summer run in Boston at the Hasty Pudding Theatre. Steve Martin called it, "The most innovative, heart-rending and funny show I've seen in a long, long time." Known for drawing upon his family relationships for much of his material, Kevin has made such lines as "That's not Right" and "We're Big Pants People" and "We're going to lose the house" (delivered in the tremulous voice of his mother) catch phrases for hilarity. An evening with Kevin is a trip to the funhouse and one laugh escalates into a bigger one and good-hearted humor prevails. So, Big Pants People of the world unite...your leader is here, his name is Kevin Meaney and he's on a mission of mirth. Kevin is currently living in New York with his daughter Kate.
---
Julia Scotti:
Julia Scotti is changing how we think about age and a WHOLE lot more. Originally headlining across the country in the 80's and 90's as Rick Scotti, she appeared on the original Comedy Central and was the winner of Showtime's Funniest Person in America contest for New Jersey, she lost the finals to Ellen DeGeneres. In 2000, she left comedy and after much soul searching underwent her life-changing transition.
Following a stint at teaching, Julia realized she had some unfinished comedy business and in 2011 returned to the stage, and with her return it is obvious she has found her hilarious voice! Her amazing ability to tackle serious issues with extremely relatable humor has audiences of all ages and backgrounds falling in love with this "crazy old lady of comedy". Julia is a regular at Planet Hollywood, Las Vegas and the Borgata, Atlantic City. She will be coming out with her memoir next year, and has recently started speaking with schools and businesses to share her unique and powerful story.
$20.00 pre-sale/$25 at the door

Door Time:

5:30/7:45
18 & over
Workhouse Arts Center
Theater W-16 9601 Ox Rd Lorton, VA 22079
GENERAL ADMISSION
ALL SALES FINAL